The new Scion FR-S in Central Florida excited driving enthusiasts!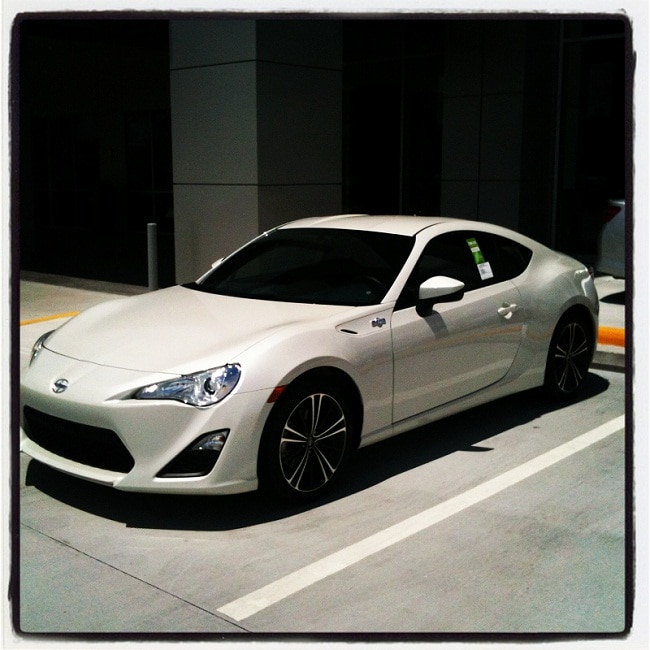 At Toyota of Orlando, we pride ourselves on the fact that we provide Toyota drivers in Central Florida with affordable, quality, and reliable new and used cars in Orlando. We're also a distributor of the innovative Scion family in Orlando, which are vehicles designed to appeal to younger generations with their unique designs, lower price points, and fun-loving culture. 

Scion was founded in 2002 and has produced a large amount of affordable and stylish cars since then, but none can compare with the 2013 Scion FR-S in Central Florida! This recently released sports car is thrilling Orlando Toyota drivers with its sleek exterior design, sporty interior, and absolutely outstanding performance capabilities! 

The Scion FR-S in Central Florida brings the sport back to driving 
At Toyota of Orlando, we're sure you've seen the new 2013 Scion FR-S commercials – and if you have, you'll remember the tag line "Bringing the sport back to driving". That's definitely the case with this incredible new sports car. The Orlando Scion FR-S was specially designed to deliver an amazing performance to all drivers, integrating a flat 2.0 liter 4-cylinder boxer engine that offers 200hp and 151lb-ft of torque – in other words, vrooooom. The Scion FR-S in Central Florida sits incredibly close to the ground and has low center of gravity, which further enhances its maneuvering and handling abilities. Additionally, FR-S stands for  Front-Engine, Rear-Wheel-Drive Sport – a name indicative of its fast and furious performance capabilities! 

The exterior of the 2013 Scion FR-S is incredibly sleek, and offers standard features like dual-exhaust, a rear spoiler, projector beam headlamps with auto on/off, and flashy 17 inch alloy wheels. At Toyota of Orlando, this sports car is available in a multitude of eye-catching colors like Hot Lava, Blizzard Pearl, Firestorm, and Ultramarine. You can even add exterior accessories to the Scion FR-S in Central Florida, like mudguards and a rear bumper applique. 

Find amazing performance and features on the Orlando Scion FR-S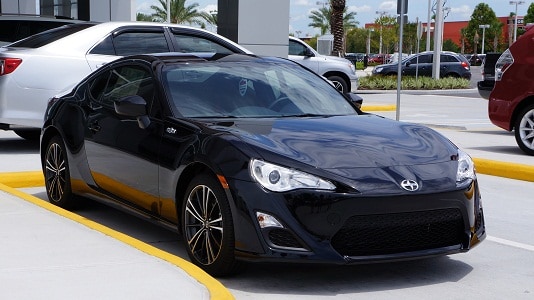 The interior of the Orlando Scion FR-S is dark and lends a nice contrast to the bright exterior; it's also endowed with bright red stitching, and features standard elements like power windows, remote keyless entry, cruise control, and a tachometer with a programmable rev indicator. The 2013 Scion FR-S at our Toyota dealership in Central Florida is available in automatic or manual transmission, and automatic models come equipped with paddle shifters to keep your driving experience as exciting as possible! Additionally, the interior of the 2013 Scion FR-S is equipped with a Pioneer Sound System and eight speakers, and a sporty feel takes a front seat with special standard features like sport bucket seats, sport pedals, and a leather-trimmed steering wheel. 

The best part about the new Scion FR-S in Orlando? The price tag. This extraordinary sports car has a starting MSRP of just $24,955 – talk about affordable, especially in light of the fact that it's a sports car. If you're looking for a new Toyota in Orlando that offers a great performance but won't put a dent in your bank account, than the 2013 Scion FR-S in Central Florida is the ride for you! 

Don't miss out – come to Toyota of Orlando today to check it out and take it for a test drive! The Scion FR-S is flying off the lot, so give us a call to learn more about its availability and set up an appointment – you can reach us at (888) 725-3520! Our new Toyota dealership in Central Florida is eager to get you into the driver's seat of this phenomenal and popular Scion!