ORLANDO, Fla. — President Donald Trump's visit to Orlando on Tuesday impacted how planes, trains and automobiles traveled to and through the City Beautiful.
As tens of thousands of people flooded downtown Orlando for Trump's reelection rally, the city's transit systems adapted their schedules to meet the increased demand while also curbing traffic on certain roads for security purposes.
Channel 9 complied a complete guide on how to navigate downtown Orlando before, during and after Trump's historical visit.
TRENDING NOW:
[ >>> Click/tap here to download the WFTV mobile app <<< ]
The rally shut down numerous roads in downtown Orlando, complicating the commute of many people who work in the area.
The city said it closed West Church Street between South Division and South Hughey avenues Sunday afternoon.
[ Read: Thousands wait to watch Trump, Pence formally announce reelection bid at Amway Center ]
The following roads closed as of 9 a.m. Tuesday:
• West Church Street from South Hughey Avenue to South Garland Avenue
• West South Street from South Hughey Avenue to South Division Avenue
• West Pine Street from South Garland Avenue to South Hughey Avenue
• South Hughey Avenue from West Central Boulevard to West South Street
• South Division Avenue, from West Anderson Street to West Central Boulevard
At 2 p.m. Tuesday, the westbound Interstate 4 entry ramp at West South Street also closed.
🚨🚨 TRAFFIC ROAD CLOSURE UPDATE 🚨🚨

Church St, from Terry Ave to Division Ave
South St, from Terry Ave to Division Ave
Terry Ave, from South St to Church St
Division Ave, from South St to Church St
Church St, from Lee Ave to Parramore Avehttps://t.co/guq9pkV47q

— City of Orlando (@citybeautiful) June 18, 2019
Parking was available for the rally at Camping World Stadium. A shuttle transported people to and from the Amway Center until 11 p.m.
Officials at Orlando International Airport are also warning that the president's visit could impact air travel. They asked passengers to arrive extra early for flights on Tuesday.
"We encourage those traveling to budget extra time to navigate around airport property. At this time, we anticipate minimum interruption to airport operations as a result of today's activities. However, inclement weather forecasts for this afternoon could also affect airport traffic," said Carolyn Fennell, with OIA.
1️⃣ Passengers are encouraged to prepare and arrive at the airport early
2️⃣ If entering the airport from the south, drop off passengers at the South APM Complex or park in Garage C pic.twitter.com/t0weVjIJrA

— Orlando International Airport (@MCO) June 17, 2019
To help alleviate traffic in the downtown area after the president's speech, SunRail offered additional rides Tuesday evening. SunRail operated its normal schedule until 10 p.m. After that, it operated three northbound and three southbound trains that will depart from the Church Street station.
SunRail additional evening service June 18:
Northbound Church Street Station Platform (north of South Street):
10:15 p.m.

10:30 p.m.

10:45 p.m.

Station stops at: LYNX Central, AdventHealth, Winter Park, Maitland, Altamonte Springs, Longwood, Lake Mary, Sanford, DeBary
Southbound Church Street Station Platform (south of South Street):
10:00 p.m.

10:15 p.m.

10:45 p.m.

Station stops at: Orlando Health/Amtrak, Sand Lake Road, Meadow Woods, Tupperware, Kissimmee/Amtrak, Poinciana
[ Watch Eyewitness News This Morning for live traffic updates on how the closures will impact your commute. ]
Watch the video below for road closures and detours:
During a Monday afternoon news conference, Orlando fire Chief Rich Wales warned people of the elements they could have to brave Tuesday.
"Plan ahead for your visit tomorrow," he said. "Stay hydrated. Bring water. Wear sunscreen. Wear lightweight clothing, and remember (there will be) standing room only. And many will be standing for an extended amount of time."
President Trump tweeted late Monday evening about those awaiting his arrival.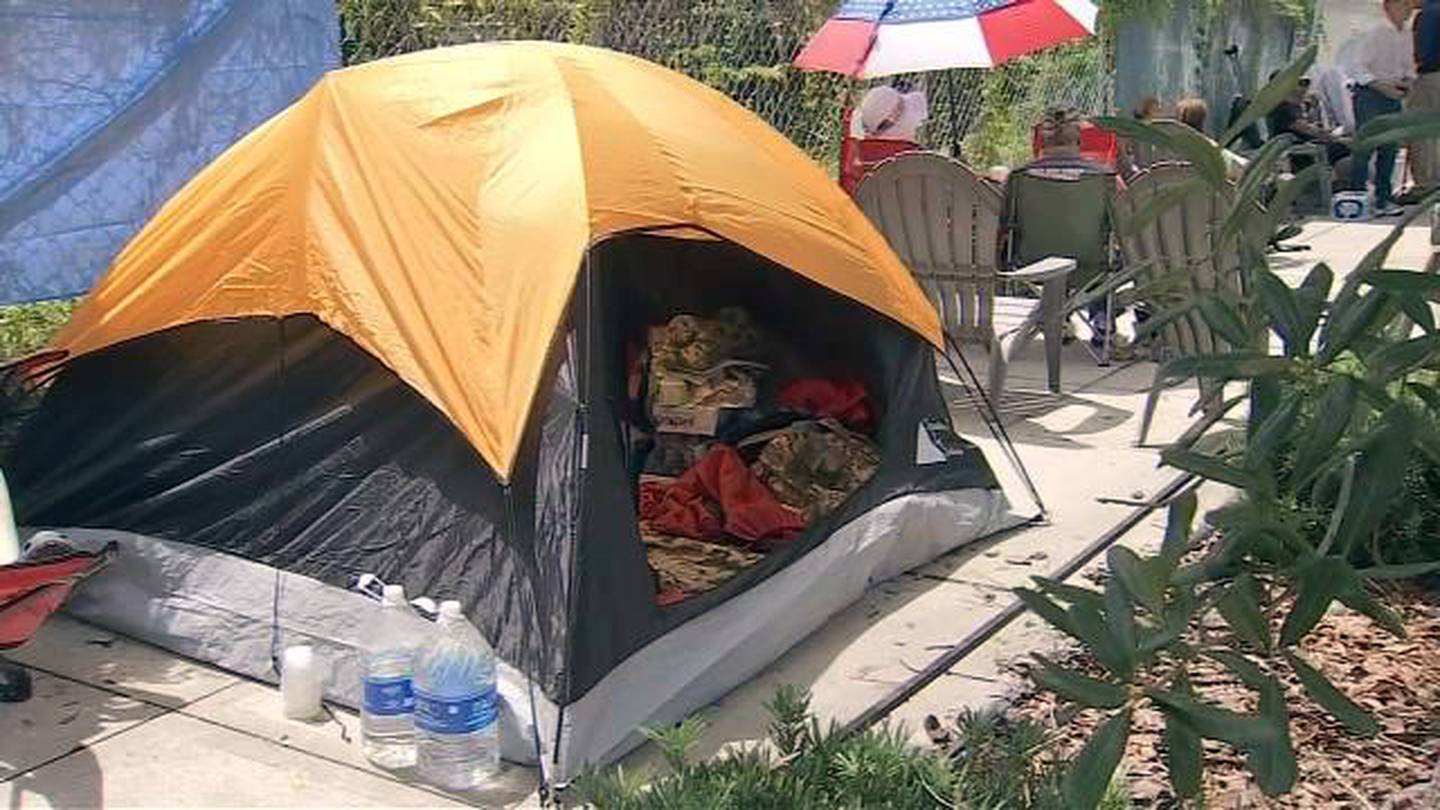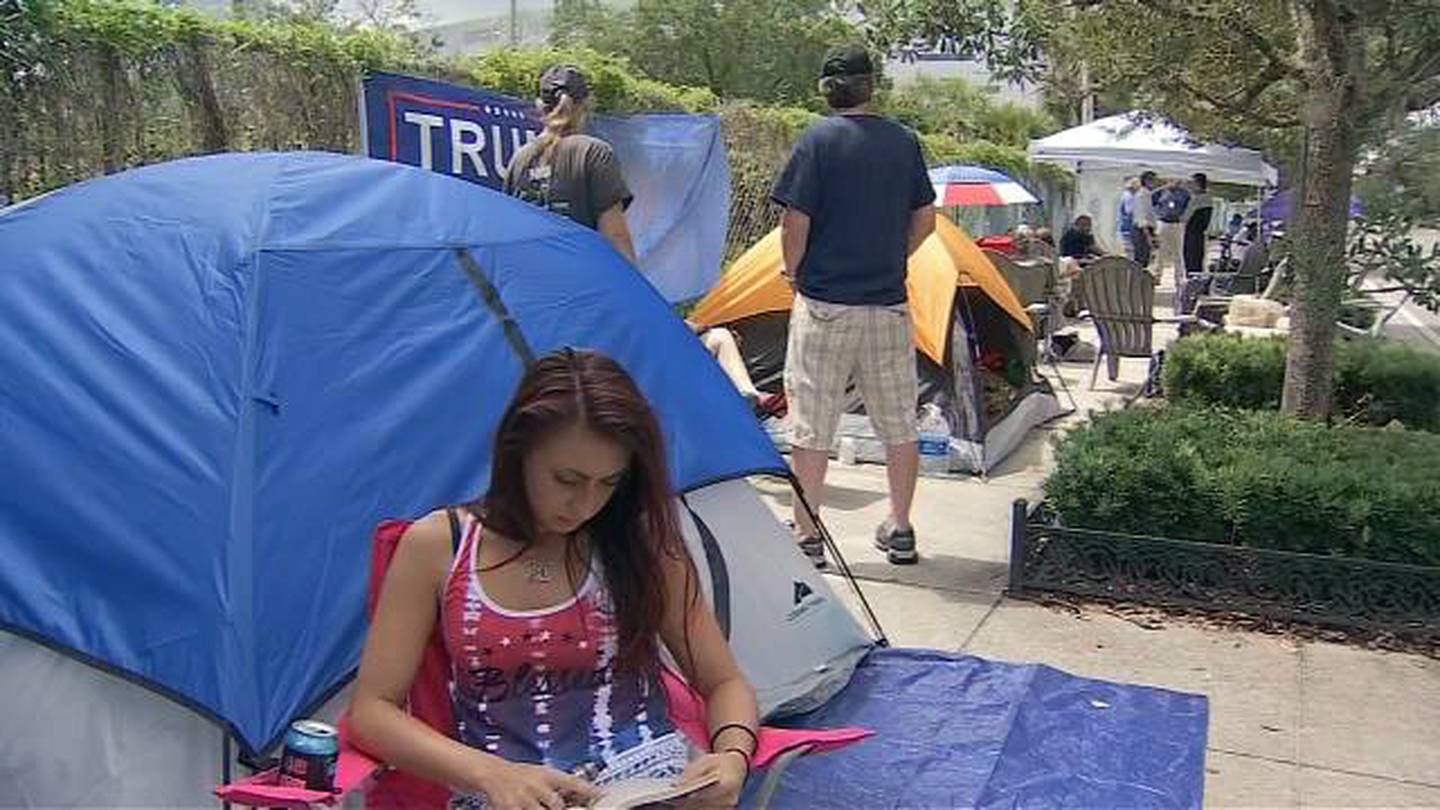 Trump dissenters hosted protest rallies of their own outside the venue adding to the crowds impacting travel downtown.
The city said it has been contacted by three groups that plan to hold demonstrations around the venue.
"Those officers who have a specialty dealing with crowd control, if it rises to the level that they're needed, you may see them come into the picture," Orlando police Chief Orlando Rolon said. "But for the most part, we're going to treat the event just like we would any other mass gathering."
[ Stay with WFTV Channel 9 for live team coverage of the president's campaign event.  ]
Ahead of Tuesday's rally, @FlaDems release poll of Orlando showing Trump's approval in the city at 29%
About right, considering he only won 35.7% of the vote in Orange County as a whole in 2016 pic.twitter.com/8YlkN5ohgL

— Christopher Heath (@CHeathWFTV) June 17, 2019
If you are going to the Trump rally in Orlando, please be careful of the weather. It's June in central Florida, and we all know what that means: have a plan for lighting and rain.https://t.co/KLzo0tUdce pic.twitter.com/mrMYdRRpR0
Announcing special late evening service, Tues. 6/18. For schedule, visit https://t.co/LIYH7703JZ. Expect full trains all day; arrive at least 30 min. early to buy tickets. Note: SunRail reserves the right to limit strollers, bikes and other large items when trains are crowded. pic.twitter.com/N6WmZvzd3B
On June 18, due to the presidential campaign event at @AmwayCenter, there will be significant traffic impacts to downtown. Please go to https://t.co/C9VFP58bjG for the latest road closure information. pic.twitter.com/WjsQA1C8Zn
DOWNLOAD: Free WFTV News & Weather Apps
Not near a TV? Click here to watch WFTV newscasts live
Cox Media Group