MOUNT PLEASANT, IOWA — An Iowa jury on Tuesday heard the graphic, heart-wrenching details of the death of a baby found dead in an infant swing last year.
Warning: This story contains extremely graphic details of a child's death.
Sterling Daniel Koehn, 4 months old, was found dead on Aug. 30, 2017, at his parents' Alta Vista apartment. According to the medical examiner, evidence showed that the baby's parents had not moved him from the swing, bathed him or changed his diaper in more than a week.
TRENDING NOW: 
"He died of diaper rash. That's right, diaper rash," Coleman McAllister, an assistant Iowa attorney general, told jurors Tuesday in the trial of Sterling's father, Zachary Paul Koehn. According to The Waterloo-Cedar Falls Courier, Koehn, 29, and Sterling's mother, Cheyanne Renae Harris, 21, are each charged with first-degree murder and child endangerment.
Harris is being tried separately, the Courier said.
Chickasaw County Chief Deputy Reed Palo, who attended the infant's autopsy, described in his testimony how the medical examiner found maggots and their larva as he removed layers of urine-soaked blankets and clothing from Sterling's malnourished body.
"As the diaper came off, you could see the skin had broken down," Palo testified, according to the Courier. "It just looked like it had been there a long time."
The diaper had been on the boy for nine to 14 days, McAllister told the jury. It was full of feces and had attracted bugs, which laid the eggs that hatched into the maggots found during the autopsy.
Sterling developed diaper rash that became infected with e. Coli bacteria, the prosecutor said. Ultimately, he died of infection, malnutrition and dehydration.
[ >> Related story: Parents charged after baby's body found in swing ]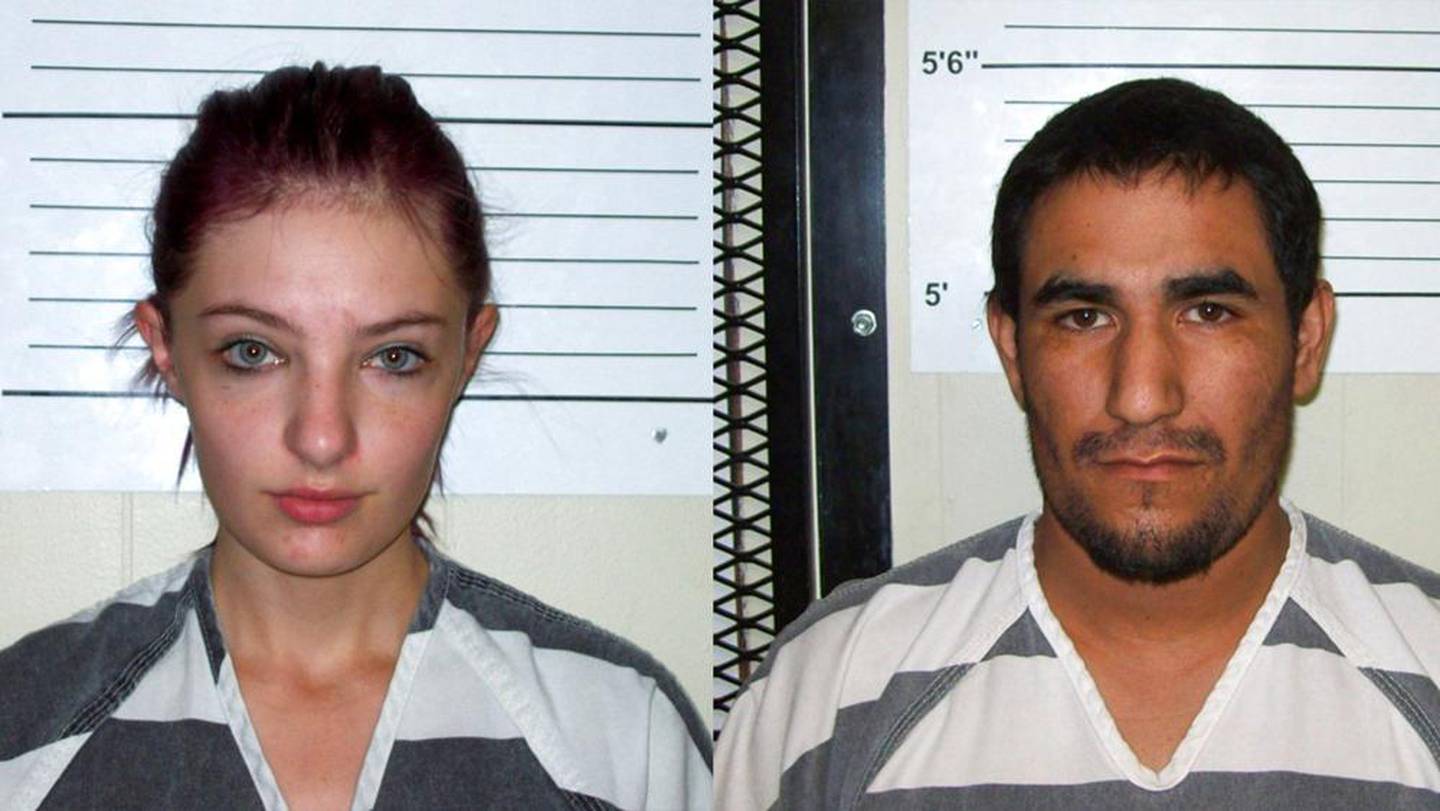 The newspaper reported that several first responders testified Tuesday about what they found when they arrived at the family's home after Koehn, who worked nights as a truck driver, called 911 to report the baby's death. Toni Friedrich, with the Chickasaw County Rescue Squad, said the father showed no emotion when he led her to the bedroom, where Sterling was seated in a baby swing.
Friedrich found the baby to be cold and stiff when she touched his arm to check for a pulse, the Courier reported.
"His eyes were open, and it was a blank stare," Friedrich said.
She testified that the room was hot and smelled strongly of urine. When she touched the baby's chest, his clothes were crusty. Gnats flew around him when she moved his blanket, she said.
Chickasaw County Deputy Jason Rosol testified that when Sterling was removed from the swing, he saw that the seat was stained brown. According to the Courier, Rosol said he found a bundle of fresh diapers in the room but found no dirty diapers.
The formula in a baby bottle found near the swing had begun to separate, Rosol testified. Cans of formula were found in the kitchen.
McAllister told the jurors during his opening Tuesday that it was not inexperience that led to Sterling's death, the Courier said. Koehn's 2-year-old daughter also lived in the home but was healthy.
A former friend of Koehn's testified Wednesday that despite visiting Koehn and Harris at their apartment, he did not know they had an infant son, the newspaper reported. Jordan Clark testified that he knew about Koehn's 2-year-old because Koehn talked about his daughter.
Clark, who ended up dating Harris after the baby's death, testified that he sold meth to Koehn on a weekly basis and that the three of them smoked the drug together, the Courier reported.
Jurors also heard from Harris' mother, Brandy Harris, who testified that her grandson seemed "his normal self" when she saw him in early August. She said that Sterling was small for his age, but she attributed it to his premature birth.
He was born in the bathtub at a friend's home in May 2017 because he was a couple of weeks early, Brandy Harris testified. She said despite his early arrival, doctors did not have concerns about his health.
The baby had begun smiling when she saw him in mid-July, and Harris testified that she took his picture, according to the newspaper. She told the court she did not take any pictures in August because she did not know it would be the last time she saw the boy.
[ >> Read more trending news ]
On cross-examination by Koehn's attorney, Harris testified that her daughter was the boy's primary caretaker. Though Cheyanne Harris did not work outside the home, Koehn worked nights as a truck driver.
Koehn's brother, Danny Koehn, told The Des Moines Register following his brother's arrest that as a truck driver, Zach Koehn would sometimes be gone from home days at a time.
"I talked to Zach a lot. He did have concerns about the child being taken care of while he was gone," Danny Koehn told the Register. "He'd call and say the baby wasn't changed for a week when he wasn't home."
Sterling's uncle did not negate his brother's responsibility, however.
"It's still the responsibility of the parents of the child, so I'm not saying he's innocent," Danny Koehn said.
Zach Koehn's trial is being held at the Henry County Courthouse in Mount Pleasant because of extensive pre-trial publicity in the case, the Courier said.
TRENDING NOW: 
Cox Media Group