The 2020 Pro Bowl kicks off at Camping World Stadium this Sunday at 3 p.m. with Pro Bowl players including Lamar Jackson, Russell Wilson and Drew Brees and a postgame fireworks spectacular to cap off the celebration.
Here is what attendees should know about Pro Bowl game day:
1. Schedule
The 2020 Pro Bowl is a whole day of fun for football fans with a variety of activities included for ticket holders.
Here is a schedule for game day:
10 a.m. - Parking lots open
11 a.m. - Shuttles begin
12 p.m. - Box office opens
12 p.m. - Pro Bowl Fan Central opens
12 p.m. - Stadium gates Open
1:15 p.m. - NFL flag football championships
3 p.m. - Pro Bowl kickoff
2. Transportation
Transportation to Camping World Stadium is something that should be planned before your arrival. Below is information for fans who will be utilizing the free shuttle, rideshare apps or parking downtown.
The City of Orlando will be providing free shuttles using the LYMMO Grapefruit Line Stops from 11 a.m. until 7 p.m. Riders using this service will be dropped off on Nashville Ave. at Church St.
If fans will be driving their own vehicles to the game, they are encouraged to reserve Downtown Orlando parking in advance online.
Rideshare app users should use the Jones High School Admin Lot (801 Rio Grande Ave., Orlando, FL 32805) as a pick up and drop off location.
3. Tailgating
Tailgating is allowed in all Camping World Stadium lots except Jones High School, and here are a few guidelines to keep in mind:
All vehicles that enter Camping World Stadium parking lots are subject to search.
In the event of severe weather, some lot entrances may be temporarily closed and guests will be asked to remain in their vehicle.
Saving parking spaces is not permitted.
Overnight parking is prohibited.
Kegs are prohibited.
Loudspeakers are prohibited, unless permitted by the City of Orlando through the Orlando Police Department.
Infringing on another guest's tailgating area is prohibited.
Political campaigning, picketing or distributing handbills/pamphlets is prohibited.
Sampling or distributing of items by unauthorized individuals is prohibited.
Unauthorized solicitation of any kind is prohibited.
Unlawful weapons and fireworks are not permitted in the parking lots.
Tents over 10 feet by 10 feet require prior approval.
Tents 10 feet by 10 feet or smaller must be set up behind parked vehicles.
4. Security
Security screening at Camping World Stadium will be heightened for the 2020 NFL Pro Bowl, and there will be limit on the the size and type of bags that may be brought into the stadium.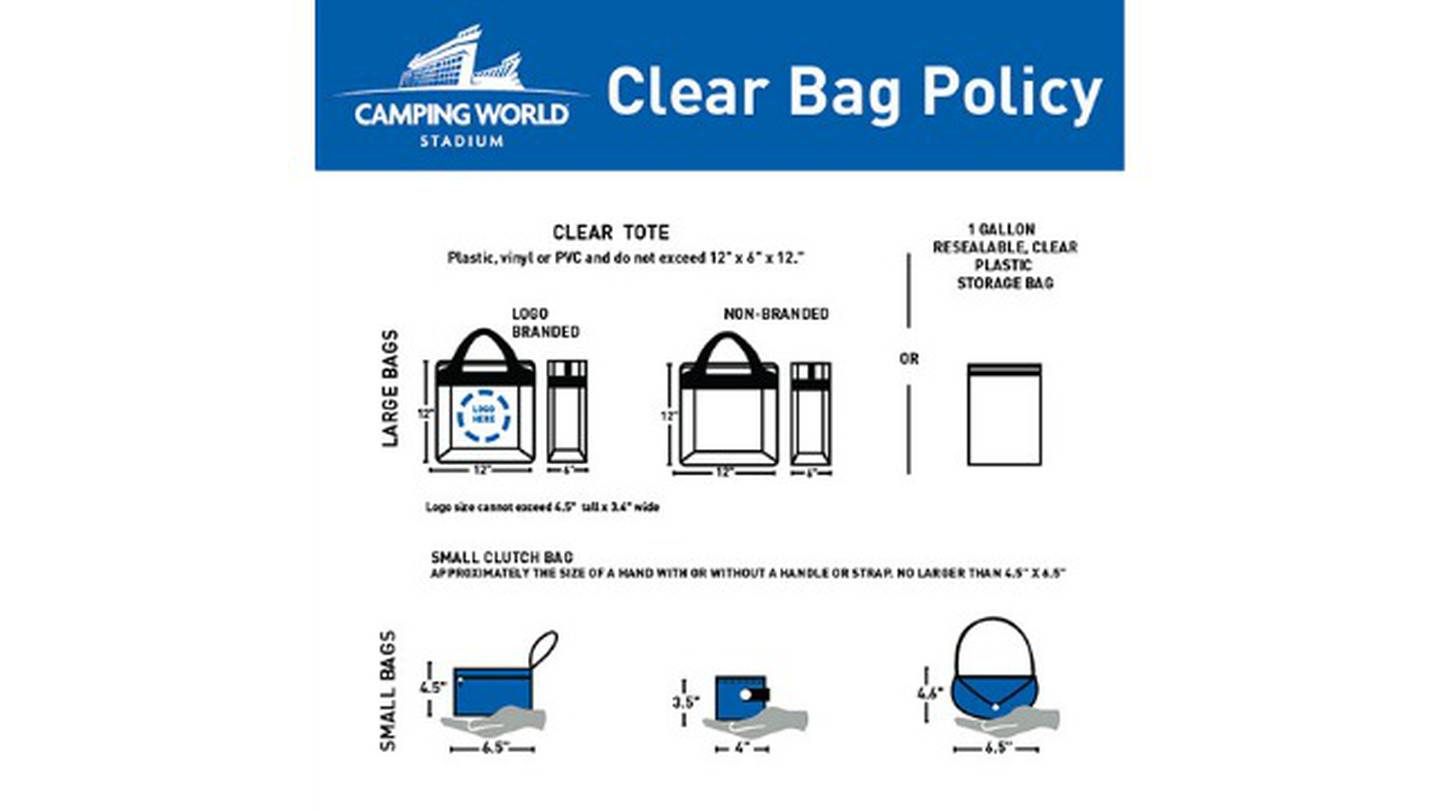 Consistent with all NFL strongly encourages fans not to bring any type of bag to Pro Bowl, but if necessary those outlined below are permissible:
Bags that are clear plastic, vinyl or PVC and do not exceed 12 inches by 6 inches by 12 inches or
One-gallon clear plastic freezer bag (Ziploc bag or similar)
Small clutch bags 4.5 inches by 6.5 inches, with or without a handle or strap can be taken into the stadium with one of the clear plastic bags options
An exception will be made for medically necessary items after proper inspection at a gate designated for this purpose
Prohibited bags include, but are not limited to purses or bags larger than 4.5 inches by 6.5 inches, coolers, briefcases, backpacks, fanny packs, cinch bags/drawstring bags that are not clear or exceed 12 inches by 6 inches by 12 inches, luggage of any kind, computer bags, binocular cases, camera bags and large seat cushions that have pockets, zippers, compartments or covers.
5. Weather Policy
The NFL Pro Bowl is a "rain or shine" event, and fans are encouraged to bring a light poncho, in the event that it should rain, as umbrellas are not permitted into the stadium.
You can also download the WFTV Channel 9 Weather app for the latest weather updates.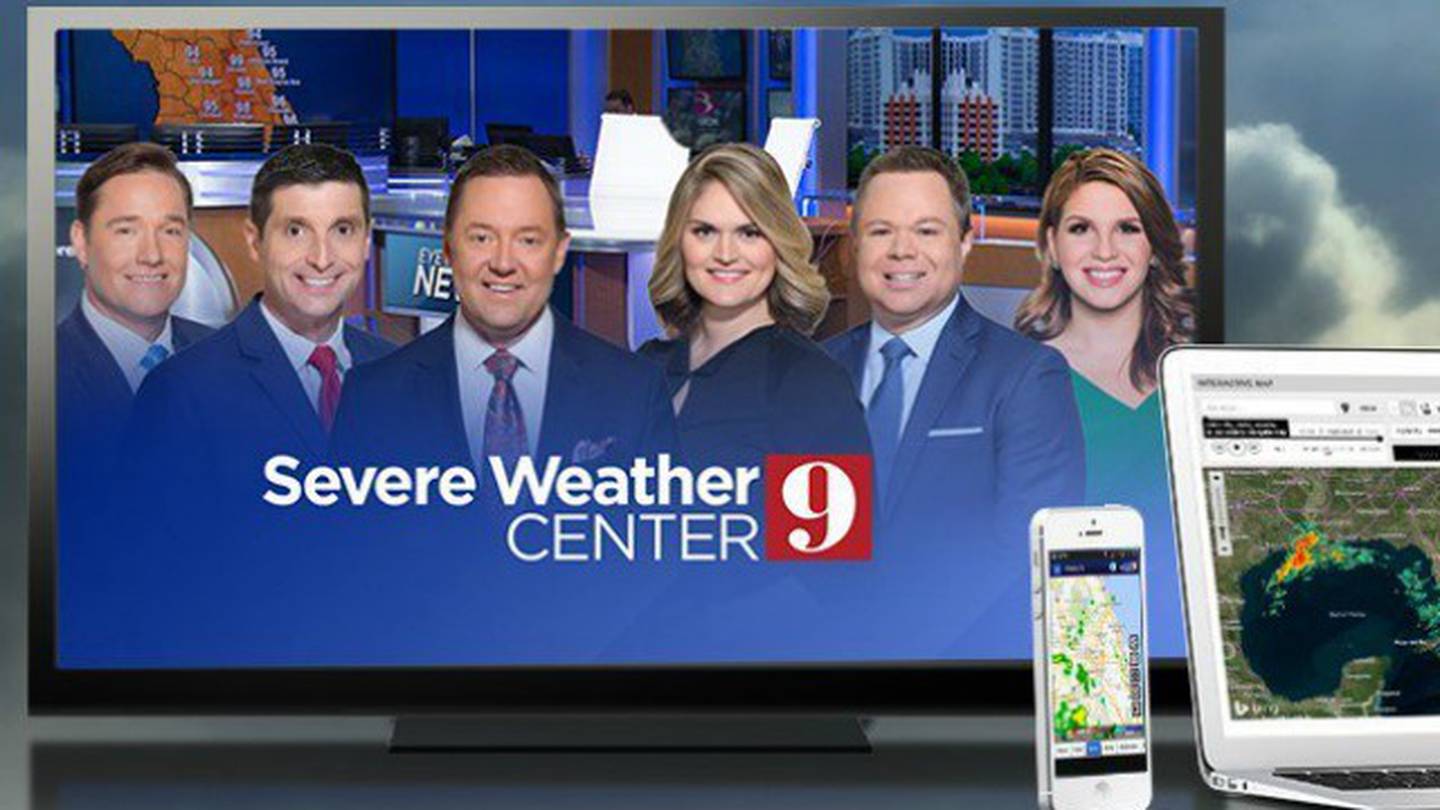 6. Pro Bowl KidZone
Families will want to check out the free Pro Bowl KidZone inside the stadium on the North Endzone Plaza, featuring interactive games, appearances by NFL Mascots and Cheerleaders and a chance to win awesome prizes.
7. Strollers
For younger fans, strollers are permitted into the stadium, but they must be checked into guest services near section 148 (North Box Office).
8. Pro Bowl Fan Central
Pro Bowl ticketholders can arrive at Camping World Stadium early to experience even more access to entertainment, including a Pepsi Tailgate featuring a pregame performance by Flo-Rida, family activities and the Pro Bowl Red Carpet presented by Old Spice.
9. Ticket Information
Game tickets are still available online, and start at just $45. Please make sure that you purchase tickets directly from the official website to ensure that your Pro Bowl experience is seamless.
© 2020 Cox Media Group