ALTAMONTE SPRINGS, Fla. — August 2019. That's the month written in chalk on the calendar on the wall of Brianna Newham's Altamonte Springs apartment. Despite family photos on the shelves and clothes still folded in the drawers, that was the last time she and her family lived in the unit.
It was almost six months ago, she said, that her fears of mold in their unit at Timberlake Apartments were confirmed. That's when they moved out.
Since then, she said her family has paid thousands of dollars in rent for a unit they're not living in for fear of breaking their lease.
>>> Click here to to submit a news tip to Action 9 <<<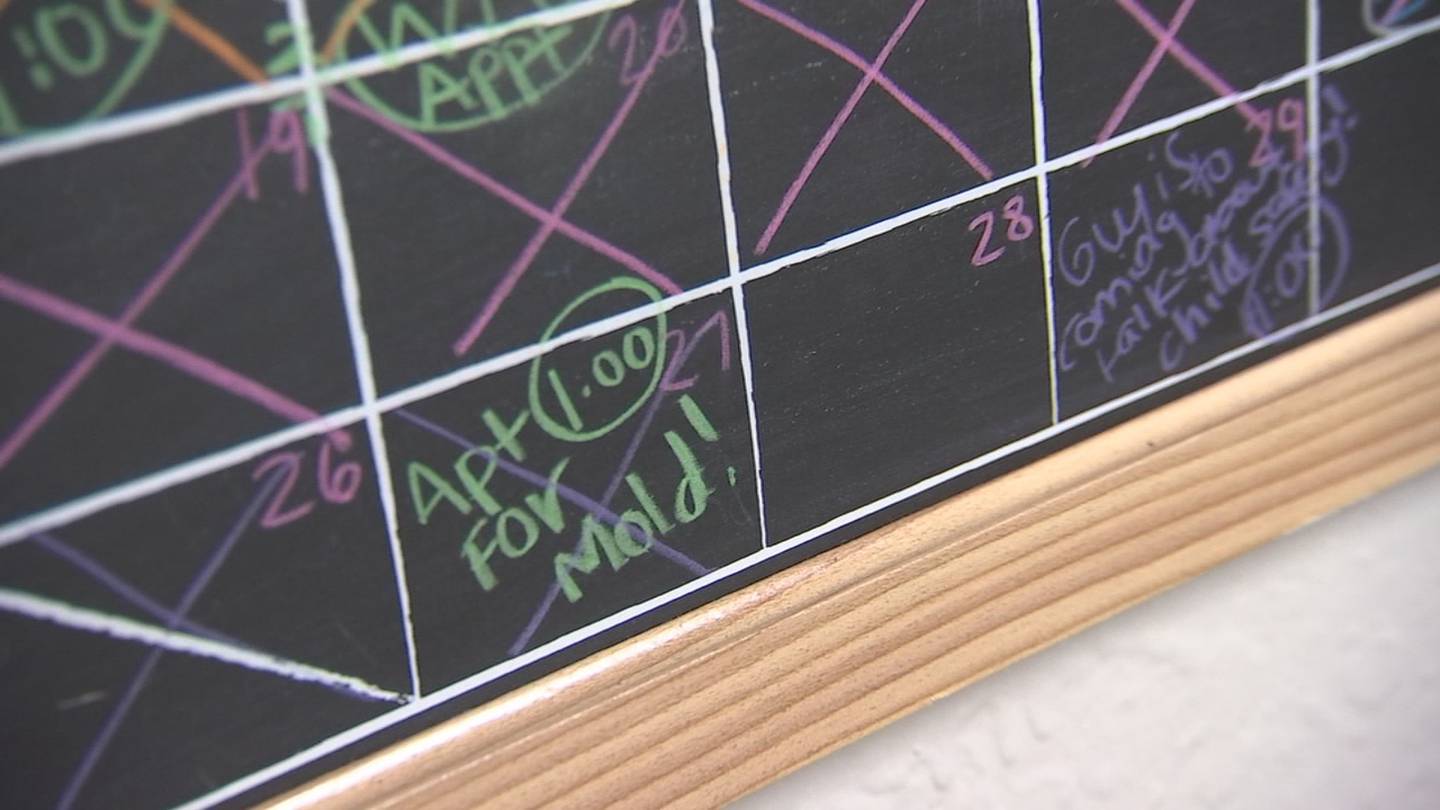 Mold is the top complaint Action 9 hears from renters, receiving around 50 complaints about it a year. The fungus is making people sick and renters claim management companies fail to keep them safe.
Newham was one of those dozens of people to contact consumer investigator Todd Ulrich for help.
"You've been through a lot," Ulrich said.
"Especially just to trying to live our lives, do our work and support out family and ourselves," Newham said.
She said her kids kept getting sick. She suspected mold in her apartment and asked managers at the complex for help.
Newham said apartment managers sent a carpet cleaning company and a tech offered to spray disinfectant in the A/C vents.
"Did he think you had mold in your vents?" Ulrich asked.
"No, he didn't think so. Even management didn't think so," Newham said.
She didn't believe it. She hired a mold inspection company that suggested the A/C system was contaminated and wanted to test the air. But then, Newham said apartment managers refused to allow testing.
"I don't understand. It's unbelievable," Newham said.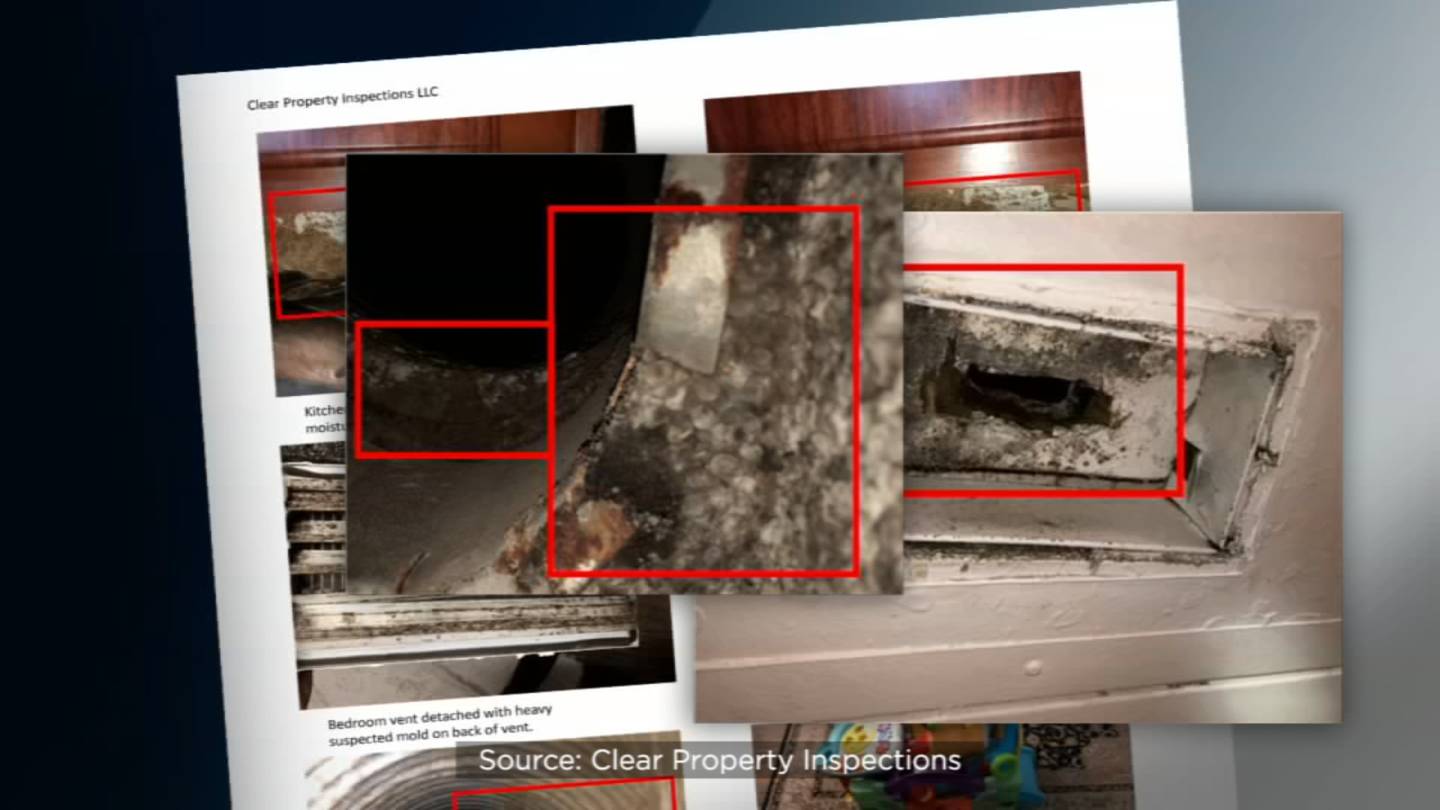 She kept paying rent after moving out since she felt trapped by the lease.
She contacted Action 9 and Ulrich called the experts.
Indoor Air Quality Solutions ran a series of mold tests for Action 9 and found suspected mold growing inside air vents and ducts.
"Those can circulate through the house and it can make some people sick," said John Lapotaire of Indoor Air Quality Solutions.
Final test results confirmed there was mold inside the vents and a second mold, aspergillus, was found, which can also contaminate furniture.
Ulrich asked Lapotaire if he thought apartment managers did their job when Newham first complained.
"Absolutely not, from what I've seen now. This is an obvious issue that was easily identifiable by anybody trained, qualified and licensed," he said.
Ulrich went to the Timberlake Apartments' management office and asked about the mold test results.
"Can you really ban renters from testing air in their own units?" Ulrich asked.
"I really don't want to answer at this point," the manager replied.
Later, Timberlake's corporate office told Ulrich it sent a certified mold remediation provider in August. No mold was found, and air duct cleaning was offered.
Timberlake Apartments released the following response:
"I would like to thank you for your inquiry to the concerns of our resident. Your visit to Timberlake Apartments was bought to my attention. Please be assured that when it comes to our residents we make every to take all of our residents' repair and inspection requests seriously. When concerns about mold were first raised, we immediately sent our certified mold remediation provider to the unit to inspect, and while no mold was found, we offered a complete air duct cleaning. We encourage our residents to contact us directly with any repair requests so we can swiftly address."
So far Newham paid $6,000 in rent since moving out.
"It's kind of overwhelming," Newham said.
Using the test results obtained by Action 9, Newham notified the complex she is breaking the lease and wants a refund for the months the unit was empty.
Ulrich urges anyone concerned about mold in their home to use a state-certified mold company to document any suspected risk that you can't resolve. He said apartment complaints can be sent to the Florida Department of Business and Professional Regulation.
Watch this story Thursday at 5 p.m. on Channel 9 Eyewitness News.
Local couple felt trapped paying rent for a mold infested apartment they could not longer live in. Action 9 called in mold professionals to document the risk and get answers. Plus what renters can do to protect their families. WFTV 5:45 pic.twitter.com/rECXFLIrQ1

— Todd Ulrich (@TUlrichWFTV) February 6, 2020
WATCH: Are you living with mold inside your apartment?

Are you living with mold inside your apartment? A local family says they've been trapped in a mold infested apartment for months and when they tried to hire experts to test for it, they say management refused to allow it. Action 9 steps in to help them get answers, today at 5:45 p.m. on Channel 9 Eyewitness News. ➡️ at.wftv.com/31GKNJT

Posted by WFTV Channel 9 on Thursday, February 6, 2020
© 2020 Cox Media Group